Hi there,
3D Scenes have landed



Want a stunning island mansion or to be creative and build your own apartment?



After lots of hard work and requests from the community, it's time to unveil 3d scenes, now in beta at frenzoo.com!

Instead of 2d backgrounds, your 3d avatars now live in fun and interactive 3d environments. When you visit the new shop you're able to buy scenes, furniture and items, and then arrange them any way you like. More creator products are being uploaded each day, so check back often for the latest.

Launch gift
To start we're giving everyone a free basic apartment, so you have something to get started with. To celebrate this exciting launch, we're also giving every Frenzoo resident 100 free coins

Log in now to receive your free coins!

3D Scenes quick tips
- Drag the right and left mouse buttons to zoom around your scene
- In every scene there are hotspots - try moving over a sofa and clicking the hotspot to sit
- Head to "edit home" to arrange your 3d scene just the way you want it
- Check out video tutorials at our Youtube channel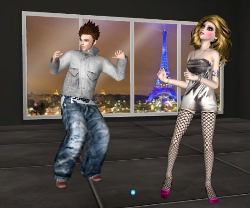 Attention 3D developers
The new scene and furniture shop is now open for business! Pros can upload scenes, items, building parts, pose points, dance balls and more directly from 3D Max or any Collada program such as Blender, Maya, Milkshape or Sketch up. Check our Education Center and Pro Creator forum for more info.

A lifetime Pro pass is available for a special beta price of $US 3.95 - get yours now

Hunt for a remote intern
Finally, Frenzoo is looking for a volunteer to help out in forums and community building now we are growing . This is ideal for a Frenzoo fan who has time and passion to jump deeper into the Frenzoo family or a student looking for practical experience in an Internet startup. If you are committed and have 2 hours free a day, please send a message to Ceci

Enjoy the new year in your new home!